>Sheltie Puppy Pics Page< >Beardie Puppy Pics Page<
Litters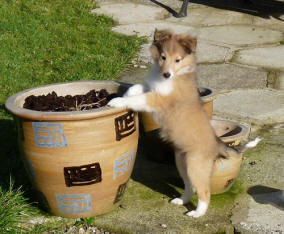 Only a limited amount of litters are bred here, if you feel you would like one of our puppies please give us a ring to see if there are any due


All "Balidorn" babies are raised in the house. They are loved and handled by everyone from birth, as well as being exposed to normal everyday household noises, to ensure a well adjusted baby.


Adult Shelties and Beardies are eye tested and all our Beardies are hip scored. Sheltie puppies are eye tested for CEA at around 6 weeks of age.


All puppies are registered with the Kennel Club, insured with Pet Plan for 6 weeks, and ready to leave for their new homes at around 8 weeks, in line with the Kennel Club code of ethics.


As a careful and conscientious breeder my main aim is to find the very best homes possible through careful vetting.
I now ask all puppy owners to sign a contract to ensure the future welfare of their pet.


I am happy to share advice or chat about the dogs at any time, Prospective buyers are encouraged to come and visit, but please ring first to arrange a suitable time.
Pet Insurance
Did you know 1 in 3 pets may require unexpected veterinary treatment each year?* Whilst advances in veterinary medicine mean vets can do more for your pet, treatment costs can soon mount up. I provide 4 weeks free Petplan insurance to each puppy so new owners can take their new pet home knowing that help is there for unexpected vet bills.
It's important to be aware that not all pet insurance is the same. Some policies limit the amount of time or money that you can claim for. Don't just shop around on price alone.
I provide an introduction to Petplan insurance for the following reasons:
| | |
| --- | --- |
| | With Petplan's Covered for Life guarantee your veterinary fees cover is renewed each year no matter how much you claim. |
| | Petplan doesn't place exclusions at renewal on their Covered for Life policy so on-going conditions such as eczema continue to be covered by the policy. |
| | Petplan won't increase your premium or excess just because you make a claim. |
| | Petplan is a pet insurance specialist so they understand the animal market and work closely with vets, charities and breeders. |
Click here to find out more about Petplan insurance or get a quote for your pet.
* Source: Petplan