The First Balidorn
In September 1973 Jenny a Yellow Labrador was bought as a family pet. As she was unregistered Dad got out the scrabble board and put in the letters of "Albion Rd", taken from our address when we lived in Manchester. The result was Balidorn and so on the 14th December 1973 she became "Jen of Balidorn. "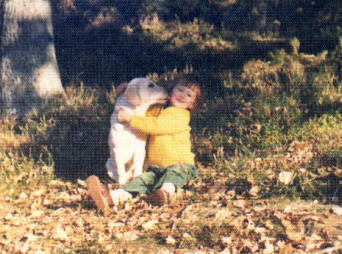 Mum and I used to take her to the local shows, coming home with the odd rosette. Despite not being a very good specimen of the breed she was our introduction to the world of Dog Showing and we were hooked.

In 1974 we got our first "Show" sheltie a 14 month old sable and white bitch called "Delamere Flower of Fashion", she was well bred and had done a good amount of winning for her breeder.

As we had used Balidorn in the naming of our Labrador we applied to the Kennel Club to use it as our affix. This was granted on 1st February 1975

Later that year we had our first sheltie litter by "Ch Riverhill Ricotta" and we kept a bitch, "Balidorn Hilight." She gave us our first stud book number and collected 3 Res CCs. On the 7.7.77., after a visit to "Ch Janetstown Journalist", she presented us with 4 dog puppies one of which became "Ch. Balidorn White Ginger" he was a glamourous golden sable and white with a superb temperament. He really put Balidorn on the map when in 1980 under Cynthia Charlesworth he won Best of Breed at Crufts.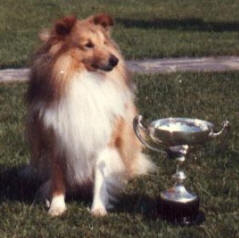 Ch Balidorn White Ginger (Nicky) with Crufts BOB Trophy.
---
In 1983 I accepted my first Sheltie judging appointment . I now award CC`s in shelties and am on seven Breed clubs judging lists. In August 2001 I passed the training of judges scheme run by the English and Mid Western Shetland Sheepdog Clubs.
So far I have judged in Spain and Germany. In June this year I will be judging dogs at the Norwegian Shetland Sheepdog Club show. I am also on the "B" list of three of the Beardie Club judging lists.
Judging the "North Wales Shetland Sheepdog Club Open Show" in 1987 my "Best Dog" was "Ch Myriehewe Spanish Galleon from Tracelyn"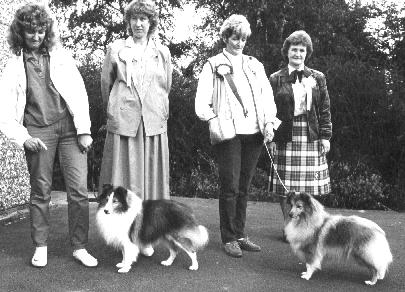 At the "Yorkshire Shetland Sheepdog Club" open show in 1994. My Best dog was "Ch Rowancrest Regality", Res Best Dog was "Ch Mohnesee the Soucerer".