Beardies at Balidorn
In 1985 after joining forces with Gill, Alan and the Breakseas, for travelling to shows we deceided to have one of our own. When "Potterdale Roxanna at Breaksea" whelped two brown bitches in her litter to "Breaksea Alchemist" Gill kept one of them and we were able to buy the other. She became "Champion Breaksea Enchantress of Balidorn" the first Beardie Champion for both parties. Unfortunately my mother, who had been my "partner in crime" as far as the dogs were concerned, died just a few months before Jennas first CC.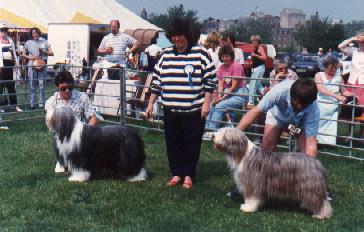 Alan handling Jenna to her third CC at "Border Union".
Rumour has it that judge Margaret McDonald-Cross could not resist those knees.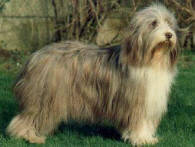 "Ch Breaksea Enchantress at Balidorn" the foundation bitch for the Balidorn beardies.
In 1989 I had my first beardie litter when Jenna was bred to "Ch Potterdale Conclusion", puppies from this litter included a CC winner a Res CC winner and a Breed club Ch. show winner.
Jennas second and final litter to "Am Can UK Ch Sammara Standing Ovation". Puppies from this litter became top winners of their age group and have won the Orora and Willison trophies for top puppy and top junior in the UK as well as an American champion.